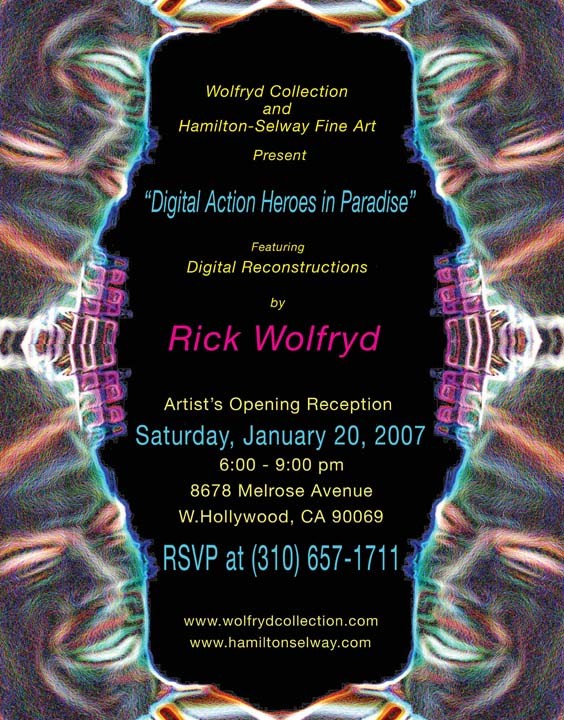 For Immediate Release: November 6, 2006
Wolfryd Collection and Hamilton-Selway Fine Art Present
"Digital Action Heroes in Paradise"
First Solo Exhibition in LA By
Rick Wolfryd
Opening Reception Saturday, January 20, 2007
LOS ANGELES, CA - On January 20, 2007 from 6:00 - 9:00pm, the public is invited to attend the opening reception for a one-man exhibition of recent works by southern California artist Rick Wolfryd at Hamilton-Selway Fine Art in the heart of West Hollywood. "Digital Action Heroes in Paradise" will present the intricate and powerful computer generated images of contemporary artist Rick Wolfryd. While exploring a series of unique images linking man and machine, Wolfryd refers to his art images as "Digital Reconstructions" and views himself as a "Spectral Painter" currently based in Palm Springs, CA. Wolfryd has been developing this project for the past five years, and his first solo exhibition in LA provides a generous survey of recent works. Hamilton-Selway Fine Art is located at 8678 Melrose Avenue, West Hollywood, CA 90069. For more information please call 310-657-1711 or visit www.hamiltonselway.com. To learn more about the artist, please see his online museum at www.wolfrydcollection.com.
This exhibition will include artwork from several series including "Digital Action Heroes," "Fantasy Landscapes" and "Cybernetic Spirit Guides." All are intuitively created digital culture designs with intense emotional and psychological appeal. Whether through four-panel works on paper or canvas transfers, Wolfryd imbues his subjects, objects and landscapes with elegance and restraint.
According to Carole Lieff, Los Angeles-based art dealer and friend of the artist, "I have known Rick Wolfryd for almost 20 years. Rick has been a maverick artist and art dealer; a renegade. Nothing has changed. He will not hew to many of the conventions (and pretensions) that seem to drive the art market. Rick creates his Outsider Art works empirically (although he holds BS and MFA degrees), discovering new parts of himself and the art as he goes along. Recently, Rick has produced the finest art works, I believe, of his lifetime. These computer-assisted works are like fluorescent candy for the retina, and as Rick made these works, he discovered serendipitously that their parts were interchangeable, and that they worked perfectly in a variety of permutations. No, this is not the conventional path of LA's "New Artist." But it is honest, speculative work. And the confluence of the patterns and the way they succeed serially, as if by chance, is maybe not chance at all."
Wolfryd states, "Although I have spent most of my lifetime as a contemporary art dealer, I have always been an artist trapped inside a dealer's body. And it is harder being responsible for the creative --- rather than the reactive. I have been fortunate in being able to use my art dealer background as a platform to learn and absorb the verities and skills of many of my modern and contemporary art heroes from Marcel Duchamp to Andy Warhol. My goal as an artist is to "discover" visual information that will provide a profound experience to the viewer; and I often feel much more like a "miner" than an "artist." There is an incredible array of found objects and subjects generated through my experiments. They reveal an unexpected sensitivity not ordinarily associated with computer software and machines."
Formerly a member of the Chicago Council on Fine Arts in "Project Information and Literary Arts," Wolfryd has also held various gallery directorship positions over the years as well as engaged in Modern and Contemporary art sales internationally. In 1998, Wolfryd was Sotheby's 8th largest client in the world for buying, selling and trading contemporary prints. During the late 1980's, Wolfryd served as the National Sales Director for Fingerhut Group Publishers to assist in launching the careers of several nationally known artists. But most importantly, over the span of the last 35 years as a renegade artist, writer, art dealer and entrepreneur, Wolfryd's personal and professional achievements have touched the hearts and lives of many thousands of people.
In addition, 2006 marks the 10-year anniversary for Hamilton-Selway Fine Art, one of the largest Warhol dealers in the United States. The Gallery sells a wide variety of Modern, Contemporary and Pop Art Masters including Lichtenstein, Haring, Hockney, Basquiat, Ruscha and many others, to dealers, galleries, and individual collectors worldwide. Their 4,000 square foot gallery is located on Melrose Avenue in the heart of the art and design district of West Hollywood, across from the Pacific Design Center. Gallery hours are Monday - Saturday 10:00am - 5:00pm.
Part of the proceeds from this exhibition will be donated to PAWS and the LA Gay and Lesbian Center.
For further information, please contact Rick Wolfryd (760)-864-9660
rwolfryd@yahoo.com